Nashua Fish & Game senior membership is open to any person of good character, regardless of race, color, creed, sex, gender or national origin, who is at least eighteen years of age. 
The following instructions will help guide you through the membership application process.
Application
Insure that you fully complete the applicant information section legibly, if hand written, and sign both the membership pledge / waiver, and the notice of investigative inquiry. Note that you must possess a valid state issued NH Pistol/Revolver License or the equivalent from another State or a clean Criminal History Record check. If you have neither form it is usually easier and faster to obtain a Pistol/Revolver License from your local police than getting a Criminal History Check.
Applicants with a Sponsor
To join the association, typically, a senior member of the association must agree to sponsor your membership application. Once you have obtained a sponsor, insure that he/she fully completes the sponsor's section, annotating that they verified your valid Pistol/Revolver License or Criminal History Check, and sign as your sponsor. Mail the completed, and signed application, to the mailing address shown in the application.
Applicants without a Sponsor
If you don't have a sponsor you will be required to be interviewed by a Trustee. Complete and bring your application, plus your Pistol/Revolver License or Criminal History Check, to the monthly Trustees meeting held on the third Wednesday of each month. Interviews are held from 6:30 to 7:00 pm at the NFGA clubhouse. Upon completion of the interview, if the Board of Trustees approve your application for membership, they will pass your application to the association's Membership Governor.
Acceptance
After processing your application the Membership Governor/Committee will contact you to schedule your New Member Orientation.  Payment of the initiation fee of $150.00 is normally required at that time.
Orientation
At the time of your orientation the Membership Governor/Committee will collect your first year's membership dues, your initiation fee, if not paid previously, and the Gate Key fee.
First Year
After orientation, you are encouraged to attend at least one General Membership meeting. These meetings are held on the first Wednesday of the month at 7:00pm, excluding June, July, and August.
As we are a Not-for-profit organization we require members perform at least six hours of volunteer work for the club per year.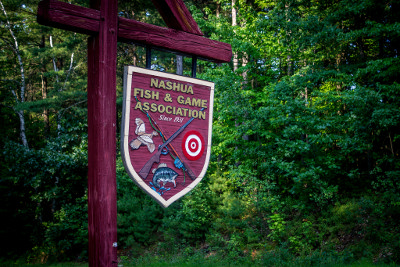 The NFGA is currently accepting new members.  Applications will be processed in the order they are received and invitations to New Member Orientations will be emailed to applicants. If you are interested in joining and have questions for the Membership Governor please send your name and email to the Membership Governor using the email form below.  Note that the application itself (see further below) has most membership information details in it.
Those interested in becoming a member of Nashua Fish and Game should view and print the application packet and follow the instructions.  It is available in PDF format below.
Download the NFGA Membership Application